A
rticle Courtesy of Cary Fischer 
owner of Hanna Creek Construction and  part owner of Century 21 Kootenay Homes with offices in Christina Lake, Rossland and Trail.
So what the heck is happening with
Real Estate in the West Kootenay?!
It seems to have caught fire 
 . It is not unique to this area and is not going to change for a little while.  Some would say we are moving into a bubble locally.  They would say that it is not sustainable.  I have heard folks say that the Pandemic is forcing people to initiate behavior that is not rational.  In order to understand what's happening today you will need to take a brief glimpse at where we came from. Let me be clear when I say this: Buyers and sellers are acting perfectly normal.  Prices in the West Kootenay are adjusting to a normal level given the economic realities of this area.  
The abnormal past of this area was based on a structural shift in employment causing excess real estate inventory.  When the largest employer in this area (now Teck) laid off a large percentage of its workforce in the mid and late 80's the area suddenly had an exodus of people and a glut of homes.  This was followed in the early 90's by a massive reduction in the Federal Government Administration and later the Province.  HRDC offices were closed, people were consolidated and retiring employees were not replaced.  Finally the forest industry was going thru its own restructuring with the softwood lumber agreement and a huge shift to mechanization of harvesting.  In other words this area had seen a massive reduction in the workforce causing incredible pressure in the housing market.  Houses could be bought for less than $10,000 in this area.  By the way some of these same homes sell for $200,000 plus nowadays.
We can all agree that people forced to move because of lost employment is a horrible scenario!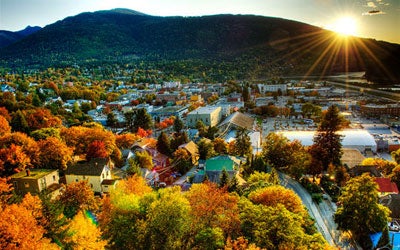 Fast forward to 2021.  Teck has modernized and become an incredible example of resiliency both from a management and labour point of view.  We have seen huge investments in this area for hydro electric generation and distribution.  Innovation in softwood lumber processing has finally stabilized the job losses in the industry and we are actually seeing local investments in this sector.  Kalesnikoff Mass Timber and Lumber expanded with a new CLT plant.  Tourism was also seeing incredible investment prior to the Pandemic but incredibly some investments continued in spite of incredible head winds.  Red Mountain Resorts continued the development of "The Constella"  Cabins at the top of Granite Mountain.  New innovative companies are finding homes in the West Kootenay like ThoughtExchange in Rossland and so many more.!
Reasons for an active
 Real Estate
 Market
1.    Stable labour force and growing businesses in a variety of sectors (JOBS)
2.    Retiring workforce replaced by new workers do to a massive demographic shift  (DEMOGRAPHICS)
3.    Low interest rates
4.    Very little new inventory
Is the Pandemic a factor?
There has been a lot said about people fleeing large urban areas.  In the short term this may be accurate, however it is more plausible to believe that working from home was in our collective mind prior to our current reality.  The Pandemic may just be pushing people to find creative ways not to work in the office.  Technology that is evolving is allowing some people to work where they would otherwise recreate.  Or perhaps work where their soul is.  Based on technology and workplace flexibility people can now live exactly in their SOUL PLACE.  A place they absolutely want to live.
The Pandemic did not create the current real estate scenario however it is certainly a part of it.  Hopefully we can all return to normal life soon. My next email will focus on the future and how long this may continue.  Stay tuned.  
Thanks for reading and we hope to see you soon,
Cary Fisher
If you would like to receive more information about the new real estate developments at Redstone please
C
LICK HERE
 to be on the list for our next release.