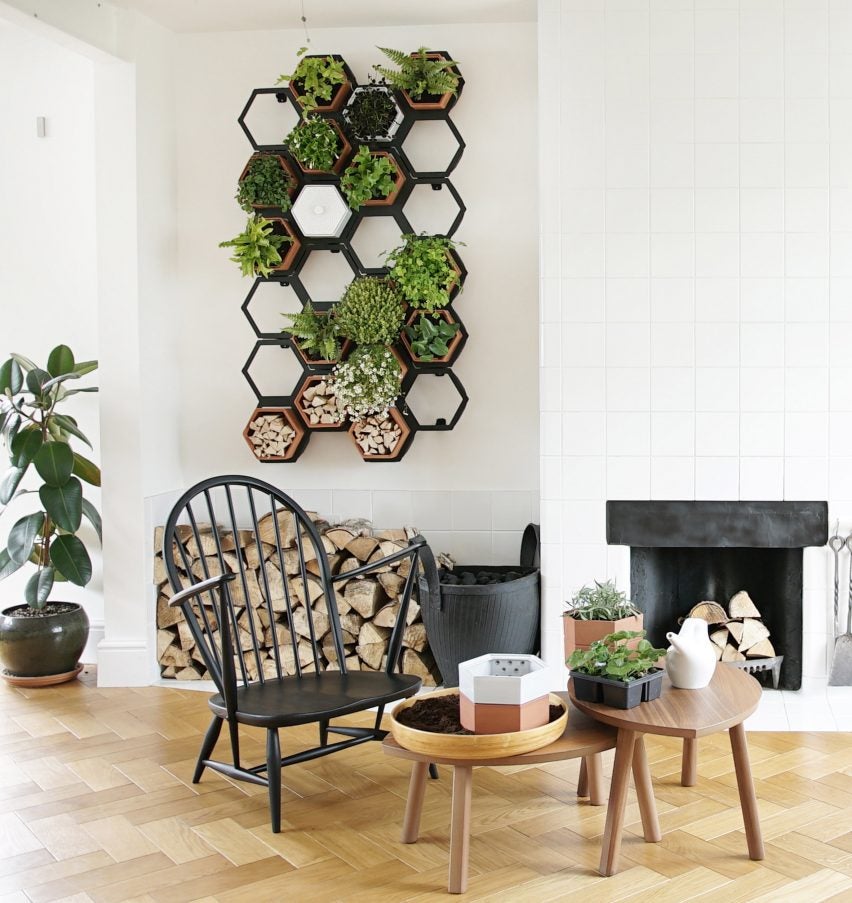 Article courtesy of Wendy Helfenbaum @wendyhelfenbaum  
By now, we're getting tired of staring at 
our walls
, and many of us long to add some 
colour
, texture, and interest to our homes. Living plant walls–vertical gardens that hang on the wall–tick all these boxes.First appearing several years ago in commercial, public, and institutional buildings, residential 
living walls
 have become increasingly popular lately. They can be compact or sprawl across an entire expanse, and they're available at various price points and styles to suit 
any budget
 and lifestyle. You can go the 
DIY
 route, purchase a ready-made kit, or splurge for a custom work of art. When 
artificial greenery
 just won't cut it anymore, here's what you need to know about bringing nature indoors by incorporating a living plant wall in your house.
Image via Vertical Oxygen
Living walls offer wellness benefits
In addition to punching up your décor, living walls provide 
positive benefits
: a wall of 20 houseplants emits enough oxygen and moisture to purify the air, get rid of toxins, and absorb sound, says Tim Suddaby, chief designer and construction manager at 
Vertical Oxygen
 in 
Calgary
, which he runs with his wife, Nathalie Callede, an interior landscape designer. The 11-year-old company specializes in living walls.
"Good health begins with the air we breathe, and living walls work really well to capture airborne chemicals and make the air more oxygen-rich," says Suddaby. "Plants make us feel better, too. Just the aesthetic of seeing greenery has been proven fairly widely to uplift your mood
Go the DIY route..
Whether you build your own frame from reclaimed wood, hang some angled plant trays, or string together a system of pockets, you can make your own living wall affordably with some know-how, landscaping fabric and plastic sheeting, and some potting soil. Be sure to 
watch a few tutorials
 to make sure you set up your system properly.
Image via WallyGro
Buy a ready-made kit
A variety of 
self-watering living wall kits
 can be purchased online or at a local garden centre. They come in all sizes, even for the tiniest spaces. You can choose from systems including 
waterproof fabric pockets
–which look like high-end hanging shoe organizers–or you can purchase a hydroponic system, which comes with a frame, a growing medium, micro plumbing, and drip irrigation. This type of living wall takes care of itself once you install a water pump and encase it in a cabinet. Water and plant nutrients filter down to feed the roots of your plants, which sit in a thick fabric. Wall-mounted plant units are usually made of wood, metal, or terra cotta, and can be purchased for anywhere between $40 to $150.
Image via Vertical Oxygen
Invest in a custom design for your space
Of course, like every other home improvement project, you get what you pay for, and you may want to invest in a splurge-worthy one-of-a-kind living wall, says Suddaby.  "Each hydroponic project we do is custom; we start with an open canvas–it's a recycled, porous product from the green roof industry that's extremely strong and it lets water through–and then we draw how the plants are going to be laid out," he explains.  You can work with a designer to create your own living plant wall that not only fits your space, but also your budget.
Pop in the perfect plants
Suddaby says most tropical plants will work in a living wall, as long as you have good natural light or dedicated grow lights on a timer. Some tropical plants, like pothos and philodendron, do especially well in this application, as do trailing plants, succulents, snake plants, ferns, peace lilies and spider plants. Vertical Oxygen recommends 
these 15 plants
, which are especially efficient in cleaning the air. 
The key is to group plants with similar light, water and care requirements. You can also plant edibles to make a living herb or salad wall!
Have FUN making your living wall and send me a picture to share on social media!